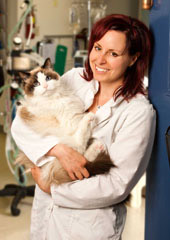 Dr. Teresa Hall, BSc., DVM
Dr. Teresa graduated with Honors from the Western College of Veterinary Medicine in 1996. After completing an anesthesia internship at WCVM she returned to Vancouver and the Vancouver Animal Emergency Clinic where she had worked for many years as a veterinary student. Initially, she worked full time as an emergency veterinarian at the Vancouver Animal Emergency Clinic, and then part time after joining North West Nuclear Medicine in 1999. However as the number of hyperthyroid kitties needing radioiodine therapy increased in 2000, Teresa dedicated herself full-time to North West Nuclear Medicine. As an owner of an older cat, (who was hyperthyroid and underwent radioiodine treatment!), she understands the concerns of owners perfectly. The cats are her first priority and she enjoys the personalities of each and every one of them. She currently has two cats, one who was a shelter cat that had RAI treatment (yes we do fall in love with our patients!), a huge dog Blue who loves the cats, 2 rats and a fish. One of Teresa's previous cats, Jassy, also had RAI therapy.
She is excited by the ability to CURE a disease, and is rewarded by the phone calls, letters and emails from owners saying they have their pre-hyperthyroid happy cats back!
Teresa loves nuclear medicine, photography, travel, rollerblading and playing summer and winter around the North Shore mountains.