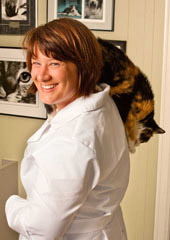 Dr. Sheila Rusticus, DVM
Dr. Sheila graduated with Honours from the Ontario veterinary College in 1997. She soon moved to British Columbia where she worked on Vancouver Island for 3 years. She next moved to Vancouver and after working as a locum at many practices in the lower mainland (including the Vancouver Animal Emergency Clinic), joined North West Nuclear Medicine in October 2003.
Sheila has always had a special place for cats in her heart and home and is thrilled to be able to CURE a disease that affects so many cats. Sheila especially loves the older cats; much like fine wine, she feels that the cats only get better with age. Above all, she says the best feeling is knowing that we can send these kitties home feeling better than when they came in.
Sheila has 2 cats of her own (both who are three-legged!), Twiggy and Dephi. Sheila also knows about being an owner of a hyperthyroid cat as Tosca, (seen in all his handsomeness on our Home page but no longer with us) became hyperthyroid and was treated with radioiodine. When not getting to know our "hot" cats or running (slowly!) around the seawall, Sheila can be found hanging out with her cats on her balcony.