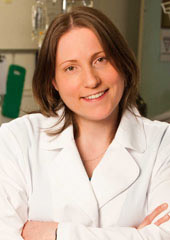 Dr. Seantry Dean, BSc., DVM
Dr. Seantry graduated with honours from the Western College of Veterinary Medicine in 2004. She then returned home to the lower mainland and practiced at Maple Ridge for three and a half years. Seantry joined North West Nuclear Medicine in December 2008, after returning to work from maternity leave.
Seantry likes working at NWNMA for many reasons but especially because she has always enjoyed working with cats. She loves meeting all of the hyperthyroid kitties we treat and their wonderful, dedicated owners. She is so pleased to be able to help cure so many hyperthyroid cats!
Seantry lives in Port Moody with her husband and two young boys. She has three cats of her own, Baxter, Abby and Bandit, a crazy high energy little mixed dog named Brew, and fish. In her spare time she enjoys spending time with her family and friends, hiking, camping and just being outdoors.