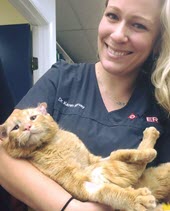 Dr. Karen Harvey,  BSc., BVMS
After working with us as a licenced animal health technician Karen decided that her next challenge would be vet school.  She left NWNM in 2010 and embarked on an Australian adventure.  She graduated from Murdoch University in Western Australia in 2014.  During vet school she continued to work as a technician in the emergency department where she learned how to treat such Australian emergencies as snake bites, extreme heat strokes, and blowfish intoxication.
After graduating vet school, she worked as an anesthetist alongside specialists in the veterinary teaching hospital where she got addicted to the adrenaline rush of emergency anesthetic cases and anything requiring more than 5 IV pumps.
Once she moved back to Canada, she worked in emergency medicine before making it full circle (and accepting that senior hyperthyroid cats are where its at) and coming back to NWNM in 2017.  Karen brought back her well traveled 14 year old tech school border collie cross, Sir Snarls, as well as future husband Jak, and one kangaroo (just kidding).
She is happy to be back at NWNM and back home in Vancouver!
Photo with local internet cat celebrity Ben Ben